Google Search Console Update: Yet Another Reason to Update Old Content
5

min read
We've always stressed that updating old content is an essential component of a well-devised content strategy. Considering the investment made in creating the content, how it becomes outdated over time, and Google's desire for up-to-date information, it only makes sense.
While we've always known that Google revisits pages to check if the content has been refreshed, now they've made it explicit.
Google Search Console Offers Better Crawl Stats for Your Site
This new report provides greater detail into how Google crawls your site. Their announcement features updated over-time charts, grouped crawl data, and high level & detailed information on host status issues reports. You can access it by going to Setting and opening the Crawl stats Report.
This new update is helpful for many reasons. But what I find most interesting is the crawl request breakdown by purpose, for which there are only two – refresh and discovery.
There are Only Two Purposes to Google's Crawler
When a Google bot visits your site, it is for one of two reasons, either to refresh (find out what pages are updated) or to discover (find new pages). Now, for the first time, you can see exactly what's happening. You might be surprised to see how often Google visits a URL looking for updated content.
Maybe. Just maybe, you should consider refreshing your content. After all, there's a reason they're re-crawling existing pages.
Clicking on either entry opens up a new page with additional information. But there's one problem.
The data presented is historical, meaning that you only see what happened. But the future is rarely a repetition of the past.
Anyway, how do you know which pages are worth updating?
How do you update them?
And if you have many pages to update, how are they prioritized?
Straight from the horse's mouth! Google Search Console now shows you which URLs it crawls to determine if the content has been refreshed. If you're not updating your content on a regular basis, do it now. Let MarketMuse help you prioritize your updates.
How to Determine What Content to Refresh
MarketMuse automated inventory and content analysis capabilities simplify the process of prioritizing content updates. You can segment pages based on various criteria with Page Filter Previews that can quickly identify the best candidates for a content refresh. For each filter, the best contenders appear at the top. If you find the list to be too long, adjusting the parameters will reduce the number of entries.
Let's take a look at some in Your Starter Planning Dashboard.
High Authority, Thin Content Pages
This filter preview shows pages with a low Word Count (less than 1,000) and high Page Authority (greater than 10). Authority is based on our ability to assess how well you've covered a topic, how successful you've been in the past, and how well you're doing with current production/publishing efforts. Expand the on-page content for the pages in this report.
High Authority, Low Content Score Pages
This filter preview shows pages with high Page Authority (greater than 10) and a low Content Score (less than 20). These are strong pages that could use some optimization to boost that score. Order a MarketMuse Content Brief for detailed directions on how to optimize that page.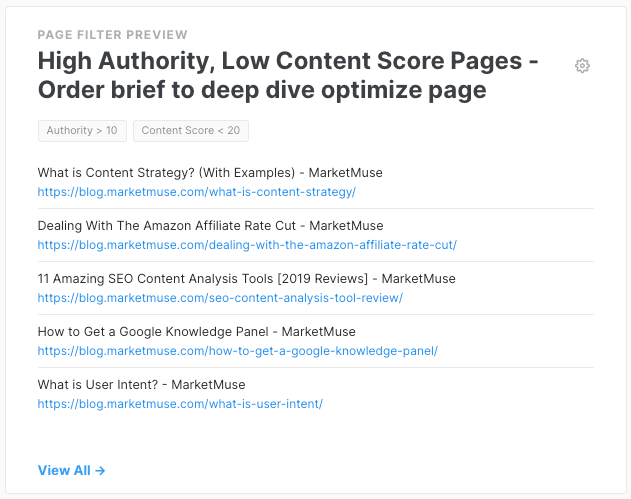 Low Authority, Striking Distance Pages
Pages with at least one topic ranking between 5 and 20, with an Opportunity Score greater than 10, and Authority less than 30 appear on this report. Opportunity is a MarketMuse composite score that evaluates the urgency and overall likelihood of success in creating and optimizing content on a particular topic. This score is meant to reflect the standard process that most content strategists go through to prioritize opportunities.
Here, the opportunity to capture rank comes primarily from building clusters.
Additional Dashboards
Choosing a Page to Optimize, Writer's Dashboard, and the Advanced Content Strategy Dashboard offer additional filter previews to find the best opportunities to refresh your content.
Can't quite find what you need? You can always create your own custom dashboard.
What you should do now
When you're ready… here are 3 ways we can help you publish better content, faster:
Book time with MarketMuse Schedule a live demo with one of our strategists to see how MarketMuse can help your team reach their content goals.
If you'd like to learn how to create better content faster, visit our blog. It's full of resources to help scale content.
If you know another marketer who'd enjoy reading this page, share it with them via email, LinkedIn, Twitter, or Facebook.