MarketMuse vs. Clearscope
6

min read
In this post, we look at the key differentiating factors that separate MarketMuse from Clearscope. They are:
Personalized content metrics
Highly-detailed and structured content briefs
Natural language generation
Competitor analysis
Unlimited queries
Yes, MarketMuse can help you with content optimization, but it does so much more. MarketMuse is a content intelligence platform that helps predict content performance, improve existing content, and create new content faster and better.
Clearscope is a content optimization tool. As a keyword research tool, the software has limited functionality.
Personalized Difficulty and Authority
MarketMuse is the first and only platform to provide personalized difficulty and authority scores. Clearscope has nothing like this.
These scores, unique to your particular site and its content, offer a significant advantage over-generalized keyword difficulty scores. They provide greater predictability regarding the success of your content.
Traditional analytics tools use a keyword difficulty score that appeals to everyone, and thus no one in particular. It's assumed everyone has the same difficulty to rank for a keyword, regardless of their site.
We know this is not true.
Keyword difficulty indicates how hard it is for anyone to rank for a topic. However, Personalized Difficulty shows how hard it is for YOU to rank for that topic.
MarketMuse has created a difficulty score relative to today's Google search ranking factors, and the primary new factors are content-specific.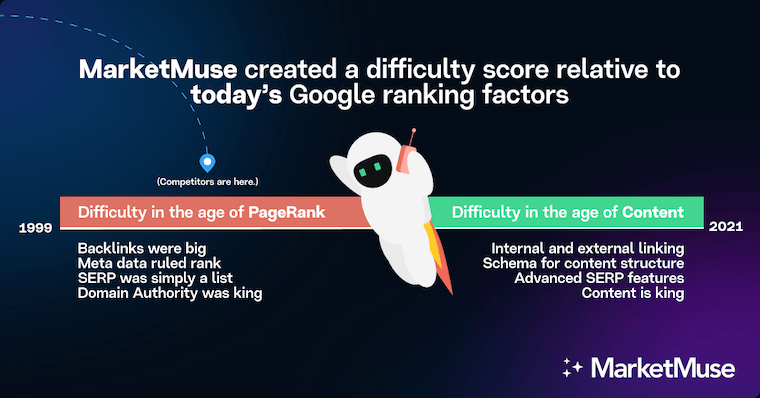 Page and Topic Authority play important roles when discussing personalized difficulty. Authority is based on our ability to assess how well you've covered a topic and how successful you've been in the past and how well you're doing with current production/publishing efforts.
How is it calculated?
Amount of coverage on the topic
How comprehensive it is
Whether you have stand-out expert-level content on the topic
How well it performs
The potential traffic one could receive if they are an authority on the topic, and the relative competition to you
MarketMuse can calculate these metrics because it knows your site. We analyze your entire content universe to form an inventory of work based on your goals. As a result, MarketMuse can:
Offer suggestions personalized to your site, industry, and goals.
Determine high-opportunity pages with topics of interest, using state-of-the-art clustering technology
In this way, MarketMuse can help you decide which topics to pursue.
Content Briefs
Highly-detailed and structured content briefs can be easily created within the platform using MarketMuse Data. Clearscope does not have this capability.
Writers love MarketMuse Content Briefs because they:
Save time doing research
Have detailed structure and subheadings
Get a lot more done
Editors, SEOs, and content strategists love them because they get quality content on the initial draft.
These briefs empower writers with reliable guidance and repeatable KPIs. We do this by analyzing the entire content landscape around a topic and using our advanced topic modeling systems to create a structured and detailed outline.
Each content brief provides several recommendations, including:
Suggested title and variants
Subtopics to mention including relevance and distribution
Suggested subheadings
Questions to answer
Internal link suggestions and anchor text
Non-competitive external link suggestions including anchor text
Audience and user intent profiles
Take a look at this example of a MarketMuse Content Brief. Briefs can be created for new content or existing blog post optimization. In the case of an existing page, it takes the existing content into account when making recommendations.
MarketMuse NLG Technology
Another first, MarketMuse is the only platform that will take a content brief and turn it into a preliminary long-form article, using natural language generation (NLG). Clearscope cannot do this.
While content briefs significantly reduce the time to create content, MarketMuse NLG Technology is another major step in this direction. Our NLG engine uses information from the brief, including subheaders, related topics, and questions, to understand the context of the topic. 
It analyzes massive amounts of pages on the topic and reconstructs that information into an original piece of content. Each draft generated is unique, so there's no worry about duplicate content.
MarketMuse NLG Technology articles are factually accurate, coherent, and require minimal editing. They provide a great starting point for your content, are time-efficient, and cost-effective.
Competitor Analysis
MarketMuse provides a competitive heatmap that allows you to identify the topic gaps of your SERP competitors quickly. Clearscope does not offer this.
The heatmaps enable you to zoom in and discover what topics aren't being covered by the competition in their content. Go beyond a content score or grade. With this information, you know which topics to cover in order to differentiate yourself from the competition.
Clearscope has serious challenges when the topics get very specific and when there is user intent fracture in the competitive landscape. MarketMuse analyzes hundreds of thousands of pages to service each query instead of 10 to 20.

Clearscope's solution is heavily focused on keywords. It doesn't understand the meaning of words and how to effectively position your content as that which a subject-matter expert would write.

Effectively being able to analyze a page against many topics is key to semantically-focused content optimization. Clearscope would require multiple reports and the reports would provide conflicting recommendations.
Stop guessing at what you could do to make your blog post better. MarketMuse Compete provides actionable insight and shows you exactly what you should do.
MarketMuse vs Clearscope: The MarketMuse Advantage
Content strategy is about more than just content optimization. Only MarketMuse has personalized metrics that enable content marketers to make sound and strategic decisions – so you know what content has the best chance of success in the SERPs.
Further, MarketMuse Premium and Enterprise plans do not cap or otherwise limit how many queries you get each month. Clearscope's Essentials Plan caps out at 100 Keyword Discovery credits and 20 Content Report credits and their Professional Plan restricts you to 250 Keyword Discovery Credits and 50 Content Report credits each month. MarketMuse Standard matches Clearscope Essentials' 100 queries per month, while Premium offers unlimited queries as well as unlimited Self-Serve Briefs. MarketMuse Premium also allows for unlimited users, while Clearscope caps users at 3, even at their Professional tier.

Create a plan and get sophisticated content briefs to ensure the best possible results. While you're at it, let MarketMuse NLG Technology create a preliminary version for you, using natural language generation.