9

min read
Usually, you get what you pay for. With MarketMuse Premium you get even more.
MarketMuse is a content intelligence platform of which content optimization is just a part. It helps you predict content performance, improve existing content, and create new content faster and better.
Ryte is a collection of three tools; a website crawler, a Google Search Console alternative, and a content optimizer.
In this post, we look at the differentiating factors separating MarketMuse Premium from Ryte when it comes to content. They are:
Personalized content metrics
Highly-detailed and structured content briefs
Natural language generation
Plus, we'll compare the content optimization experience in MarketMuse vs. Ryte.
Over the last year and a half, we took six really big consumer brands and conducted a test between MarketMuse and Ryte. Not only did MarketMuse exceed what was best-in-class prior, we couldn't find anything to beat it. We always try to find the best tool and not become stagnant. MarketMuse beat them hands down. I don't mean it functioned better or looks prettier, but the barebones results of rankings and positions were better."

Ryan Monahan – CEO at Social Media Sharks
Personalized Difficulty and Authority
MarketMuse is the first and only platform with personalized difficulty and authority scores. Ryte, like other keyword research tools, has nothing like this.
Increased competition in search engine optimization has accompanied Google's advancements in search. Optimizing content is no longer enough to succeed in the SERPs. Before creating content, you need to know what content to create.
Predicting the performance of your content avoids wasting time pursuing search terms for which you have little chance of ranking. MarketMuse has created a difficulty score relative to today's Google ranking factors, and the primary new factors are content-specific.
MarketMuse Personalized Difficulty and Authority scores provide a clear advantage over generalized keyword difficulty scores. They are better at predicting content performance because they are unique to your particular site and its contents.
Traditional keyword difficulty score assumes everyone has the same difficulty in ranking for a keyword, regardless of its existing authority.
We know this is not true.
Keyword difficulty indicates how hard it is for anyone to rank for a topic. Personalized difficulty shows how hard it is for YOU to rank for that topic.
Sites having authority for a particular subject experience faster success when publishing related content.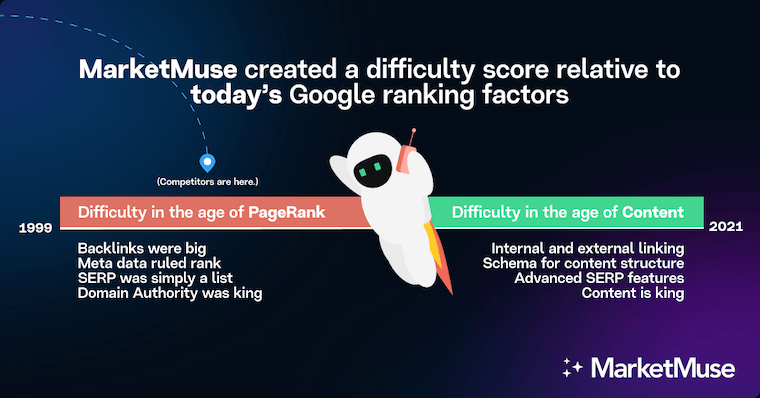 How do personalized difficulty and authority work?
We assess how comprehensively you cover a topic, examining factors such as historical performance of the content covering the issue and your current content performance for the subject. This contributes to your overall authority on that topic. Then, we include the strength of your domain and SERP presence to target YOUR personalized difficulty in ranking on a given topic.
In this manner, MarketMuse can help you decide which topics offer the best opportunity.
Content Briefs
Structured content briefs can be quickly created in-platform using MarketMuse Data. Ryte does not have this capability.
Writers love MarketMuse Content Briefs because they:
Require less research to craft expert-level content.
Have clear instructions on how to proceed.
Receive detailed content structure, including subheadings.
Get much more done.
Everyone on your content team will love MarketMuse Content Briefs because they ensure quality content on the initial draft. You'll get better content, faster!
Our content briefs provide writers with reliable guidance and repeatable KPIs. We do this by analyzing the content landscape surrounding a topic. With the help of our advanced topic modeling systems, we create a well-structured and highly-detailed outline.
Each content brief provides several recommendations, including:
Suggested title and variants
Subtopics to mention including relevance and distribution
Suggested subheadings
Questions to answer
Internal link suggestions and anchor text
Non-competitive external link suggestions including anchor text
Audience and user intent profiles
Here's an example of a MarketMuse Content Brief for a new piece of content. Briefs created for pages already published take existing content into account when making recommendations.
MarketMuse NLG Technology
MarketMuse is the only platform that uses natural language generation (NLG), in conjunction with a content brief, to create a preliminary draft. Ryte cannot do this.
While content briefs significantly reduce the time to create content, MarketMuse NLG Technology represents another major step in this direction. Our NLG engine uses information from the content brief, including subheaders, related topics, and questions, to understand the context of the topic. 
First, it analyzes massive amounts of pages on the topic. Then it reconstructs that data into an original article. Every draft is unique, and there's no concern about plagiarism.
Articles written with MarketMuse NLG Technology are factually accurate, coherent, and require minimal editing. They provide a great starting point for your content, are time-efficient, and cost-effective.
MarketMuse vs. Ryte: The Optimization Tools Comparison
Ryte uses TF-IDF to power its recommendations. Why TF-IDF Doesn't Solve Your Content and SEO Problem but Feels Like it Does details these disadvantages. What we'll focus on here is how those limitations impact the optimization experience. Specifically, they are:
No comparative data
Data that lacks insights and specifics
Inferior data quality
Poor workflow experience
For this comparison, we'll use an official Ryte video showing how to use their product. I've taken screenshots and timestamps so that we can compare them.
For comparison, we're using the same focus topic and existing page in both MarketMuse and Ryte.
At the 1:07 mark in the video, we see the Ryte content editor with recommendations for a specific keyword/URL combination.
Here's what we find.
Lacking comparative data.
There's no Content Score, so you can't measure the quality of your content.
No average or target Content Score, so you can't compare your target to the competition.
No competitive word count (average or target), so you don't know how your content length compares to the competition.
No details on Content Score or word count for top competitors.
Data lacks insight and specifics
You don't know which terms are the most relevant to your topic.
You can't tell how frequently the competition uses these terms.
You're not sure how to incorporate these terms into your document. How much is not enough or too much?
Poor Data Quality
Recommendations are limited to one and two-word phrases. So it misses terms like 'search engine bots,' 'log file analysis tool,' 'web server log,' and 'search engine crawlers.' Ones that MarketMuse recommends.
Redundant and inappropriate terms. 'Screaming frog,' a popular log file analysis tool is listed as a keyword, but so is 'screaming' and 'frog.' There's no chance an article about log file analysis will discuss these specific topics, as listed.
You can remove words from the list, but doing so inexplicably adds words that weren't there before at (2:03 in the video). Removing the phrase 'screaming frog' added the phrase 'frog log' to the list. Obviously, this isn't a real topic, so it's irrelevant.
Filtering the list to remove 1-word keywords adds topics that weren't there previously. (at 2:17 in the video) In this case, they are 'server errors,' 'external links,' 'social media,' 'XML sitemap,' 'duplicate content,' and 'engine bots.' If you're wondering what 'social media' has to do with log file analysis, so am I! And 'engine bots'? Fuhgeddaboutit!
Poor Workflow Experience
You can't see where the terms are used in a document (they are not highlighted in any fashion).
No immediate feedback when incorporating terms into a post. You need to continually hit a button to get updated recommendations. That's frustrating!
The MarketMuse Advantage
Unlike Ryte, all the important decision-making data is available in MarketMuse Optimize.
The list of 50 related topics is sorted, with the most relevant at the top. 'Suggestion' shows how frequently a term is used by the competition, while 'Dist' shows the frequency of use in your document.
MarketMuse doesn't use TF-IDF but instead uses topic modelling. As a result our data is of higher quality and fidelity than Ryte.
At MarketMuse, our UX team pays special attention to ensuring the optimum experience when using all parts of the platform. In our Optimize application terms used in the document are highlighted for quick visual reference. Ranges are color-coded to make them easier to identify. Recommendations happen in real-time as the document updates.
MarketMuse knows your site and its contents. Not Ryte. That's why MarketMuse can make intelligent predictions as to how your content will perform. Only MarketMuse has personalized metrics to provide insightful guidance on where to focus your content marketing efforts.
Content strategy starts with a solid plan. MarketMuse can help create that plan while sophisticated content briefs ensure its best possible execution. Finally, MarketMuse NLG Technology can create a preliminary version using natural language generation for added cost-benefit.
What you should do now
When you're ready… here are 3 ways we can help you publish better content, faster:
Book time with MarketMuse Schedule a live demo with one of our strategists to see how MarketMuse can help your team reach their content goals.
If you'd like to learn how to create better content faster, visit our blog. It's full of resources to help scale content.
If you know another marketer who'd enjoy reading this page, share it with them via email, LinkedIn, Twitter, or Facebook.